EMV Level 1 Protocol and Electrical Test Tools
Ensure Level 1 chip quality control prior to personalisation
EMV Level 1 protocol and electrical testing ensures that contact chip cards work properly prior to personalisation and that bad cards do not cause lost time in the personalisation process or require remakes. It also allows failed contact chip cards to be inspected to determine the cause of failure.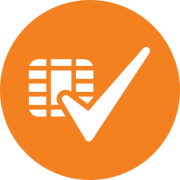 Reduce costs and risks of issuing invalid EMV chip cards
EMV Level 1 compliance testing is mandatory to companies involved in the manufacture, personalisation and issuance of EMV chip cards to ensure the global interoperability of chip card and payment devices. Compliance is achieved following the submission of test results performed by an accredited test laboratory.
Used by
Chip/Card manufacturers
Personalisation bureaus
Test laboratories
Essential for
QC testing in production and pre-certification testing of EMV cards against Level 1 specifications
Chip vendor quality control
Benefits
Reduce the costs and risks of issuing invalid EMV chips cards
Improve inward quality control and supply chain management of chip vendors
Validate ICC conformance to ISO, EMV and GSM Level 1 specifications
Chip electrical tester and protocol analyser CET 3000
The Barnes CET 3000 is a terminal simulator designed to perform tests to validate ICC conformance to ISO, EMV and GSM Level 1 specifications.
Solution Highlights
Provides card manufacturers, personalisers and issuers with the means of validating and analysing ICC electrical and protocol performance at a fraction of the cost of semiconductor industry test equipment.
Should chip failure occur, it enables detailed analysis to resolve issues prior to the official Level 1 compliance tests or as part of product quality control.
Engineering Analysis: Expert technical analysis of ICC performance within and beyond specification limits.
Supports inward quality control and chip vendor management.